8 reasons for becoming our partners:

Only high-quality components. Each item goes through pre and post production control before it is cleared for sale.
100% analogue to original components.
Wide range of automotive brand spare parts covering all motor cars, trucks, specialized, for marine, power sports and motorcycles.
Technical assistance to distributers and clients.
Direct supplies from factories to stocks. No extra charges from intermediaries.
Highly competent staff, always ready to answer your questions.
Marketing support from automotive industry professionals.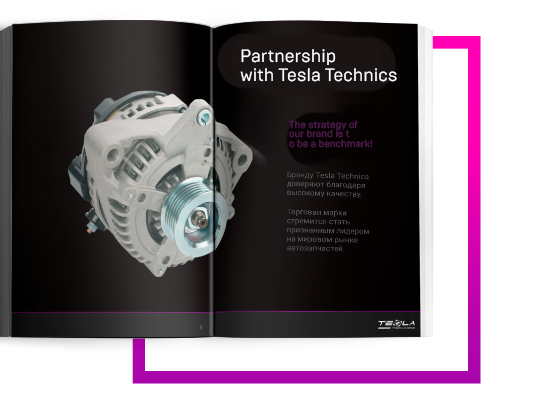 Advertisement support

Tesla Technics cares about their partners.

For each regions and partnership, we offer unique marketing programs.

Contact us to know more, or fill in the form
Register
a point of sales
If you are selling Tesla Technics brand,
spend less than a minute to register
using a form below, and your service will appear in "Where to buy" section.
Most visitors of Tesla Technics website look for points of sales of our products near their own location.
Customers will be able to find registered points of sales on a map of available services! By taking part in "Partners of Tesla Technics", clients become closer to you!

Access to listings
and price list
We are interested in new partners, distributors and clients.

To get access to product listing and prices, please fill the form. It will not take more than 1 minute.


The strategy of our brand 
is to set the standard!

The brand of Tesla Technics is trusted for the high-quality provided. We are aiming to become a recognized leader on the international automotive market.

Tesla Technics in Barcelona
Address:
Barcelona, Avinguda Diagonal, 409, 1st floor
Phone number:
+7 (499) 394-68-57
Email:
ss@teslatechnics.com
Whats'app:
+34-621-049-779
Point of sales can be found in
"Where to buy" section


If you would like to purchase Tesla Technics products or become our distributor, please fill in this form:


Mission of Tesla Technics:

Quality
Provide high end spare parts for accessible prices
Safety
Offer our clients products that guarantees reliable and safe use of their vehicle
Care
Be attentive to the interests of our clients and staff














Catalogue is in process of being completed, for access to information on listings and prices, please fill in the form:
Pre-production quality control for spare parts of Tesla Technics:
Shock and static flexion tests for metals
Tests for total liquid content in metals
Chemical analysis of metal components
Test for metal homogeneity
Test for quantification of mechanical properties of metal
Post-production quality control of products:
Checking the endurance of the structure in different temperature conditions -40 +50
Vibration testing: 15G acceleration, 10Hz ~ 1000Hz, for 8 hours.
Continuous testing of the alternator installed on the bench for 1000 hours at a temperature of 95 degrees Celsius.
Starter testing: for passenger cars 10,000 starts; for commercial vehicles 20,000 starts.
Secondary tests to obtain international certificates for quality standards IS009001. TS16949. IS014001.
Moscow region, Gorki Leninskie, Kashirskoe highway, c 229
Phone:
Kazakhstan, Almaty, Ryskulov Avenue 140/4
Phone:
Barcelona, Avinguda Diagonal, 409, 1st floor
Phone: